Lightning over Bryce Canyon
For various reasons, this is a very special image for me. It is my first one to be published on 1x.com and my first one to appear in an international magazine (Digital Camera-UK in the August issue 2014). I remember unintentionally getting up way too early and in total darkness due to the time shift among the US states and after having an encounter with what might very well have been a mountain lion, I finally arrived at the edge of Bryce Canyon, when a distant thunderstorm began. I knew I was in for a great light show and after spending some time trying to capture lightning bolts with longer exposures, I finally was patient and lucky enough to get one right in the middle of the frame. The finished image is the best example for me that dedication and patience really pay off in the end.
Survive
Bryce Canyon, USA
We can find a strong will to live in places, where we might not expect it. And the neighborhood can seem very uninviting.
Warming Up
Sunrise accompanied by some coyote howling at Joshua Tree.
Once in a Lifetime
An unbelievable vista at Grand Canyon, USA. Having had heavily overcast conditions the whole day, the sun came out for the first time right at sunset providing even a rainbow for some unforgettable atmosphere.
Light Invasion
Sun rays breaking through right at sunset after a heavily overcast day at Monument Valley.
Leading The Way
Sunset at Death Valley, USA.
Spectacle
Some stunning lightshow at Grand Canyon, USA.
Distant Silhouettes
Some iconic shapes in the distance and a dramatic sunset at Monument Valley.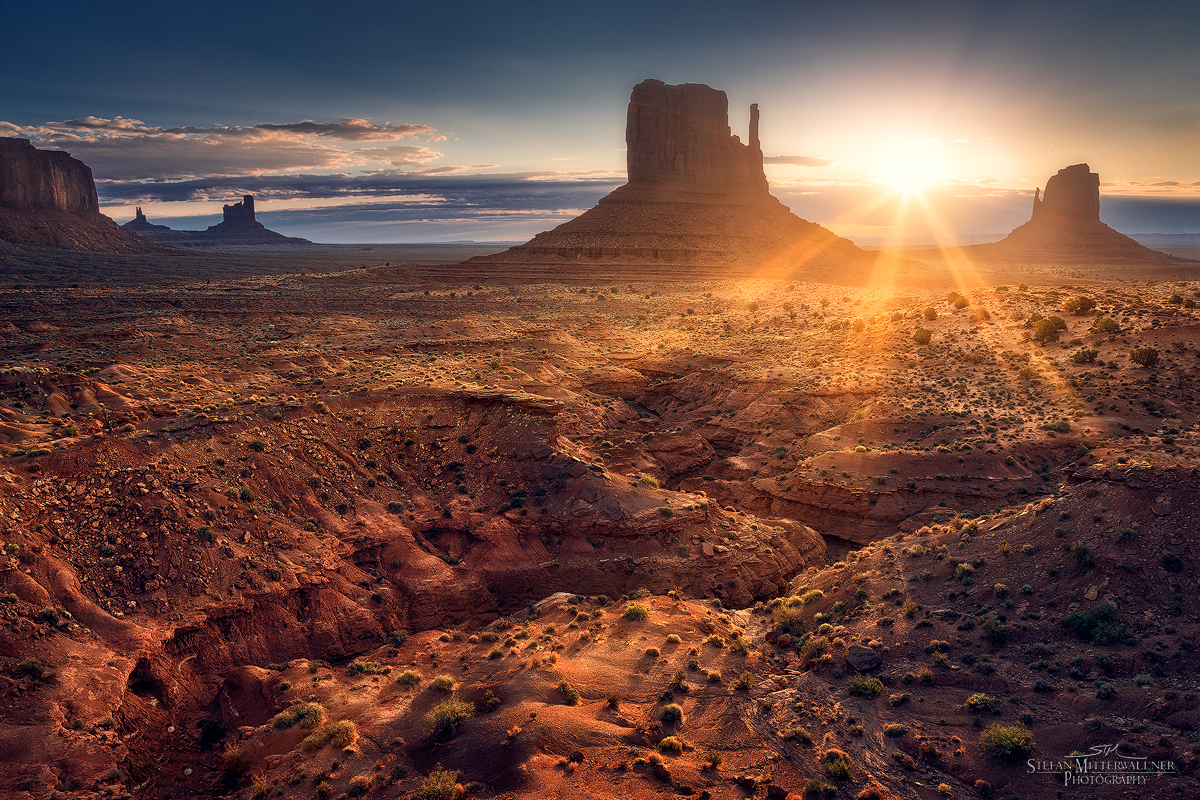 Giants Awakening
Sunrise at Monument Valley, softly touching Dinosaur's land.
A Path Untouched
On a very cloudy day at the Vestrahorn in southeastern Iceland, I was lucky to have the sun break through for a few minutes, which added some warmth to that pretty surreal scenery.
Sundance
Midnight sun in Iceland is an amazing experience.
Midnight Splash
Water breaking over shore rocks at midnight in Iceland.
Fire and Water
This is a long exposure panorama of the amazing Goðafoss, certainly one of the most beautiful waterfalls I have seen. On a personal note, I missed the Soccer World Cup Final 2014 due to shooting Goðafoss in that particular night, but even being a Soccer fan, it was well worth the sacrifice.
This image was published on 1x.com.

Breaking Through
Shooting Goðafoss on that evening is still a very vivid memory. The soccer fan in me wanted to watch the World Cup Final 2014 badly, but luckily the photographer had the last word, since I had very limited time in Iceland. I had luck on my side and the sun breaking through, which added all the warmth to this beautiful scenery.
Golden Touch
A long exposure 2-shot pano at Goðafoss, Iceland.
Watermusic
Sunset orchestrations at a waterfall in south Iceland.
Dreams
Dreamy sunset at Skógafoss, Iceland.
Recognized with an "Editor's Choice Award" at 500px.com.
Golden Blue
Some magic light display at Brúarfoss, a very well hidden gem in Iceland.
Last Light
Midnight sun over Westfjords, Iceland. You find some totally untouched, raw and peaceful nature in those remote places.
Vanishing
Soft sunset light at the very surreal scenery at Kirkjufell, Iceland.
Old Stories
Out of a fairy tale- Kirkjufellsfoss, Iceland.
Weathertop
Kirkjufell touched by some magic sunset light.
Rain Has Passed
Sun greetings after a short shower at the amazing Seljalandsfoss, Iceland.
This image ranked 1st in all photography categories at 500px.com on 30.10.2014.
Veiled Secrets
Soft veil of fog at Kirkjufellsfoss, Iceland.
Touched By The Setting Sun
Soft light touch over a small, charming waterfall at Westfjords, Iceland.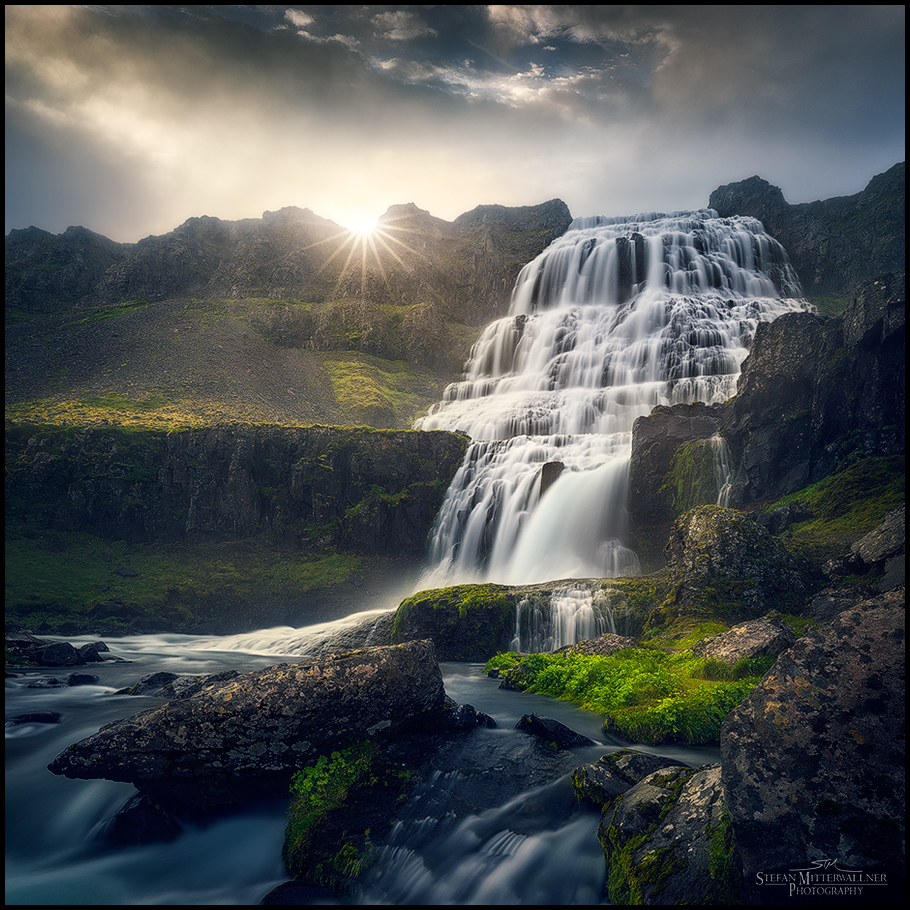 Synergy
There are many unbelievable waterfalls in Iceland and Dynjandi is one of the less known and more remote ones. It took me a long time driving on pretty bad roads to reach it and I didn't regret it a second when I finally was in close proximity to the incredibly powerful and huge Dynjandi, Iceland.
Timeless
Dynjandi, Iceland. There is almost a spiritual quality to this breathtaking waterfall. This image was published on 1x.com and can be found on many places on the web.
Hooded
Midnight sun at Westfjords, Iceland.
Into The Blue
Among many iconic, famous and amazing waterfalls in Iceland, Brúarfoss is still considered to be kind of a hidden gem. It took me a long time to find it but it was well worth the effort. You don't believe the deep blue color until you actually see it yourself.
This image was published on 1x.com.
Heart of Brúarfoss
A close study of the fascinating Brúarfoss, Iceland.
Her Majesty
You certainly feel small in front of Dynjandi, Iceland.
Mystery
Dynjandi is certainly one of the most fascinating waterfalls I have ever seen. There is such an innate beauty and majesty about it that is hard to capture. I knew I was in for something special when the veil of fog appeared, which added another quality to the already very mystical scenery.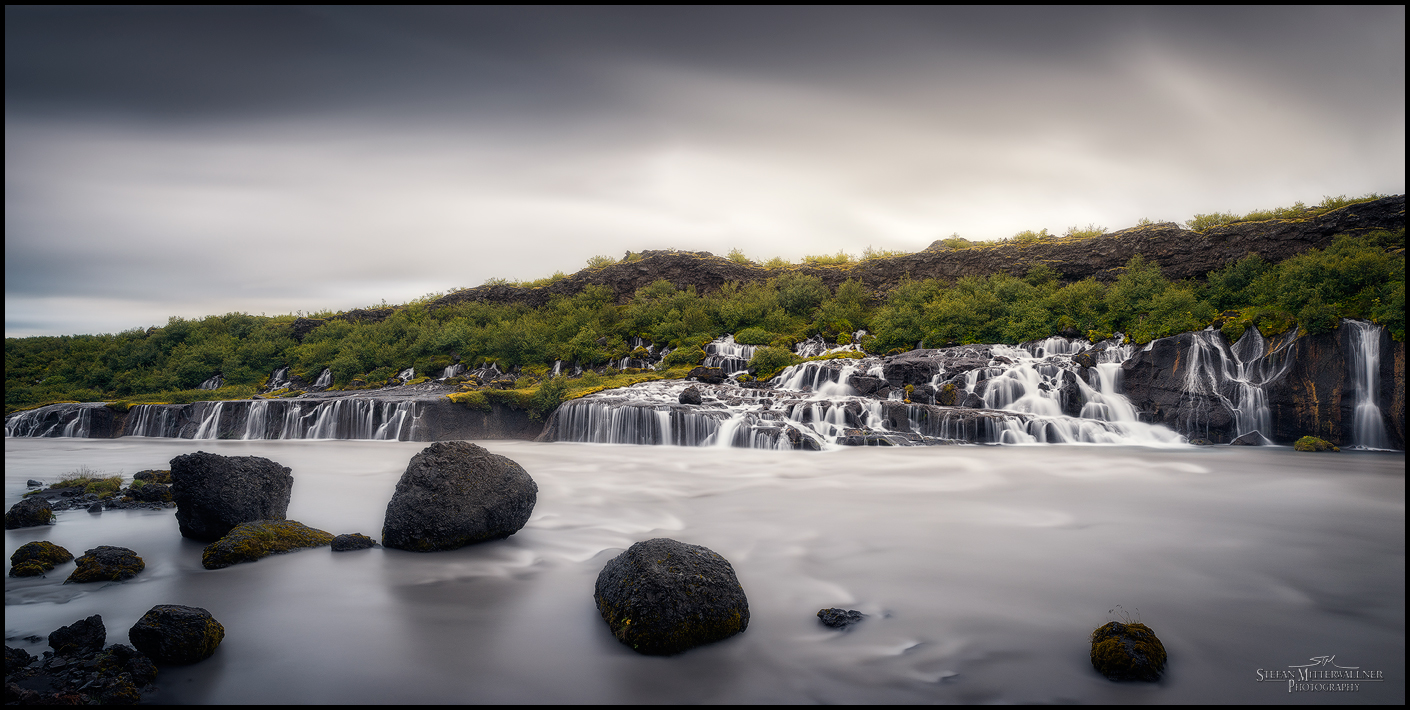 Stream of Silver
Confluence of many charming falls at Hraunfossar, Iceland.
Into the Mirror
Some raw, untouched nature at Westfjords, Iceland.
Watercircle
A panoramic shot of the mystical Öxarárfoss, Iceland.
Frozen Diamonds
Iceblocks like Diamonds on the black sand beach at Jökulsárlon, Iceland.
Forever Thirsty
Beast's rock of Hvitserkur, Iceland.
Fog Evasion
Some mystical sunset scenery at Salzburg, Austria.
Power & Humility
You truly get a sense of scale and power of nature when you get close to Skógafoss, Iceland.
This image was published on 1x.com.
Purity
An abstract rendering of falliing water and the essence of Dynjandi, Iceland.
Joshua Tree at Nightrest
The Milky Way and coyote's howling at Joshua Tree National Park, USA.

Nightly Shadows
Nightrest at Joshua Tree National Park, USA.
Merciless
Force of Nature at Bryce Canyon, USA.
On the Edge
A fierce storm approaching at Bryce Canyon, USA.

Moonfire
Moonrise over Hintersee, Austria.
Wintersun Greetings
Deep winter sunrise at Windischgarsten, Austria.
Distant Relations
Deep icy silence at Jökulsárlon, Iceland.